It's that wondering time again…
Whether it's Valentine's Day or your partner loves chocolate and bubbly or a warm fire with wine any time, sometimes, jewelry just takes the cake. Heart to heart, our artisans have created a small but lovely collection of very affordable pieces to crown the evening. Imagine the look on her face as dinner and roses come and go but the wrapped up box remains. Then, you reveal an addition to her collection; gold (or silver,) hearts. What could possible ruin this beautiful moment? A set of earrings that cause an allergic reaction, that's what.  You need hypoallergenic earrings to save the day!
Fortunately, you're on the right site, because all of our products are allergy free and guaranteed against irritation. So you can shop with confidence in the knowledge that our hypoallergenic earrings are nickel safe. A sure bet for your date tonight and every night. With several different styles, hand crafted and made in the USA, it's an easy choice for clients with sensitive skin. The Sensitively Yours product line is made from materials proven to prevent allergic reaction. Our surgical steel and gold earrings have remained the proven solution for metal allergy sufferers everywhere. Year in and out, we've been the contact for allergy free jewelry.
Choices, Options, & Selections in Hypoallergenic Earrings!
Here are just a few of the designs we offer in our collection that we found perfect for Valentine's Day:
For surgical steel earrings, check out these Silver Hoop of Hearts Earrings: The hoop and post are made from a base of high grade surgical stainless steel. These earrings are subtle, cute, and classy, perfect for the office, around the house, or a fun night out.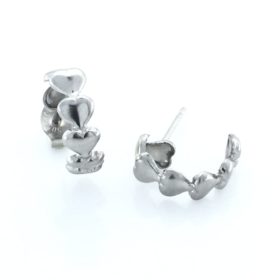 Or, these : The hoop and post are made from a base of high grade surgical stainless steel and then electroplated in a thick layer of pure 24K gold. Each pair comes with a matching set of earring backs (butterfly type) made with the same durable, hypoallergenic materials.
Everyone loves the CZs!  Cubic Zirconia is just like having diamonds at the fraction of the cost.  And, in the shape of a heart, it doesn't get any more glamorous than that.
We also offer hypoallergenic earrings in a Small Gold Double Heart style: hypoallergenic earrings are the best choice for children starting out with pierced ears. Whether recently pierced or used to wearing pierced earrings for a while now, surgical steel earrings are hypoallergenic and easily maintained. Ideal, especially for kids.
How about these hypoallergenic, Triple Heart Earrings   We start with a hypoallergenic stack of three gold hearts. We then add a post made from a base of high grade surgical stainless steel. Finally, we add electroplate in a thick layer of pure 24K gold. Size: 5mm wide x 8mm long (13/64 inch wide x 5/16 inch long).
And here you'll find our Surgical Steel Silver Double Heart Earrings: These are earrings that you'll find durable, lightweight, easy to care for, and affordable. Two overlapping silver hearts and post made from a base of high grade surgical stainless steel. Size: 8mm x 5mm (5/16 inch x 13/64 inch).
And Here's The Best Part
And there you have it! A few ideas for that special someone to cap a special evening. Whether you're dining or dancing or both, we carry something to remember this day, forever. And there's nothing to fear while protecting her ears through the use of surgical steel. At Sensitively Yours, we are dedicated to creating and offering the best in earrings for sensitive ears. We only test and select styles that are both attractive and optimally safe. The many testimonials from customers over the years are from real people who were previously allergic to earrings. But now, they've found an answer that truly works. As evidence of our commitment, we offer a Lifetime Guarantee against Reaction.  If at any time you develop a reaction to our earrings, we will give you your money back.  So dance, celebrate! This is her day-and yours. Make the most of it.